Elements of The Yorkshire Regiment 4th Battalion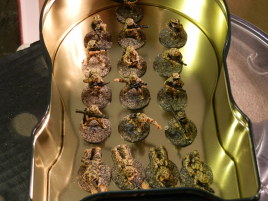 Basic Information
| | |
| --- | --- |
| Army: | Elements of The Yorkshire Regiment 4th Battalion |
| Game System: | Force on Force |
| List: | British Army Platoon (TQ: D8/D10) |
| Base: | Forward Observation Base Inflexible |
| Figures: | 26 infantry |
| Casualties: | 10 KIA, 2 WIA, 8 MIA |
| Manufacturers: | The Assault Group |
| Total Points Value: | Not used |
| Status | All done |
Units
Name
Equipment
Status
Notes
Mission 1
Mission 2
Mission 3
Mission 4
Mission 5
Mission 6
Mission 7
Mission 8
Headquarters
Ltn. Kearns
SA80
OK
-
-
-
-
-
-
-
-
Sgt. McNulty
SA80
OK
-
-
-
OK
-
-
-
-
Alpha section
Fireteam 1
Cpl. Bentley
SA80
KIA
KIA
Cpl. Nesbitt
SA80
MIA
Lifer, TQ:D10/D10
-
OK
OK
OK
-
OK
MIA
Pvt. Cowan
SA80 UGL
WIA
Permanent injury
WIA
Pvt. Gildea
SA80 UGL
MIA
Raw, TQ:D6/D8
-
OK
WIA
-
-
OK
MIA
Pvt. Coyle
L108A1 SAW
KIA
WIA
KIA
Pvt. Farrel
L108A1 SAW
MIA
-
-
-
OK
-
OK
MIA
Pvt. Craney
L108A1 SAW
KIA
WIA
KIA
Pvt. Moulds
L108A1 SAW
MIA
-
-
-
OK
-
OK
MIA
Fireteam 2
Experience:
Misdirection - 50% chance to change hotspot roll of 6
LCpl. Dingwall
SA80
MIA
OK
OK
WIA
-
-
OK
OK
MIA
Pvt. Dooley
SA80 UGL
WIA
Permanent injury
OK
OK
WIA
Pvt. Villiers
SA80 UGL
KIA
-
-
-
OK
-
OK
KIA
Pvt. Gregory
L108A1 SAW
KIA
OK
OK
WIA
-
-
OK
KIA
Pvt. Petrie
L7A2 GPMG
KIA
OK
OK
KIA
Pvt. Hewitt
L7A2 GPMG
MIA
Lifer: TQ D10/D10
-
-
-
-
-
OK
OK
MIA
Bravo section
Fireteam 1
Experience:
Shoot and Scoot - Can shoot before running
Cpl. Torrens
SA80
MIA
-
OK
OK
-
OK
OK
-
MIA
Pvt. Barclay
SA80 UGL
MIA
-
WIA
-
OK
OK
OK
-
MIA
Pvt. Gravelle
L108A1 SAW
KIA
KIA
Pvt. Crossan
L108A1 SAW
OK
-
WIA
-
-
OK
OK
-
-
Pvt. Knapman
L108A1 SAW
KIA
OK
KIA
Pvt. McCallion
L108A1 SAW
KIA
Raw: TQ D6/D8
-
-
-
-
OK
KIA
Pvt. Duddy
L108A1 SAW
OK
Raw: TQ D6/D8
-
-
-
-
-
-
-
-
Fireteam 2
Experience:
Hard - reroll one casualty check per game
Experience:
FP. Dev. I - reroll one firepower die per game
LCpl. Naylor
SA80
OK
OK
OK
WIA
-
-
OK
-
-
Pvt. Readman
SA80 UGL
OK
OK
OK
WIA
-
-
OK
-
-
Pvt. Sloane
L108A1 SAW
OK
OK
WIA
-
-
-
OK
-
-
Pvt. Stocker
L7A2 GPMG
KIA
OK
KIA
Pvt. Pigott-Smith
L7A2 GPMG
OK
-
-
-
-
-
OK
-
-
Charlie section
Fireteam 1
Experience:
Def.Dev. I - reroll one defense die per game
Experience:
FP.Dev. I - reroll one firepower die per game
Cpl. Khalil
SA80
OK
-
-
-
OK
WIA
-
-
-
Pvt. Byrne
SA80 UGL
OK
-
-
-
OK
OK
-
-
-
Pvt. Oldfield
L108A1 SAW
OK
-
-
-
OK
OK
-
-
-
Pvt. Casson
L108A1 SAW
OK
-
-
-
OK
OK
-
-
-
Fireteam 2
LCpl. Herd
SA80
OK
-
-
-
OK
-
-
-
-
Pvt. Angell
SA80 UGL
OK
-
-
-
WIA
-
-
-
-
Pvt. Thompson
L108A1 SAW
OK
-
-
-
OK
-
-
-
-
Pvt. North
L7A2 GPMG
OK
-
-
-
OK
-
-
-
-
Pictures
Notes
This is a slightly different sort of list. There are obviously no point values in FoF for one. Also, this is the roster for my for our FoF campaign Alpha Sierra September. As the campaign progressed, the fate of these figures was be recorded here. The campaign is now over and the sorely battered unit has finally been pulled out of the line.
The combined casualty count includes permanent injuries only. I gave up trying to maintain count for troopers in the field hospital...
4th Battalion of the Yorkshire Regiment is a Territorial Army formation, but they have served abroad with the regular elements of their regiment. All mistakes, errors and omissions herein are mine.
P.S. I've no idea if the YORKS really have bagpipers or not (probably not). Maybe it's just Sgt. McNulty's hobby.
---
Comments
This is very good and nice idea!
guest
Feb 07, 2013 22:07

... which I will nic for my coalition platoon if ever get chance to field them under my command ;)

This work is licensed under a Creative Commons Attribution-NonCommercial-NoDerivs 2.5 License.
Copyright 2003-2021 Mikko Kurki-Suonio