Cobalt Mercenaries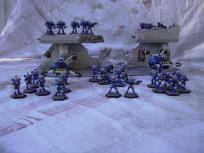 Basic Information
Units

Unit
Cost
Headquarters
Master with bolt pistol and power sword
91
Captain with 2 plasma pistols
76
Elites
Terminator Squad: Sergeant with storm bolter and power sword,
5 terminators with storm bolter and powerfist
240
Troops
Tactical Squad Alpha: 5 Marines with bolter, 1 missile launcher
100
Tactical Squad Beta: 5 Marines with bolter, 1 missile launcher
100
Fast Attack
Land Speeder Squadron: 2 Land speeders with heavy bolter
100
Heavy Support
Devastator Squad Gamma: Sergeant with bolter, 1 bolter, 3 lascannons
180
Devastator Squad Delta: Sergeant with bolter, 2 bolters, 1 missile launcher, 1 heavy bolter
110
TOTAL COST
997
Pictures
More pictures of these figures.
Notes
The captain's second plasma pistol is costed as an extra close combat weapon, because that's what the game effect is.
As this list utilizes all the Cobalt Mercenary figures that I have, there's not much flexibility in it. The terminators are probably extragavant in a 1,000 point list and you could split the Land Speeders into two squadrons easily, but that's about it. Frankly, there are too many heavy weapons and too few basic troopers.
I do have an APC in a color scheme that generally fits these guys. That could be fielded as a Rhino for some additional mobility.
---

This work is licensed under a Creative Commons Attribution-NonCommercial-NoDerivs 2.5 License.
Copyright 2003-2021 Mikko Kurki-Suonio