House of Helios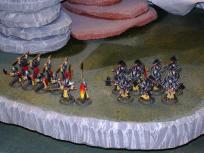 Basic Information
| | |
| --- | --- |
| Army: | House of Helios |
| Game System: | Chronopia 1st edition |
| List: | Elf/Helios |
| Figures: | 24 infantry |
| Manufacturers: | Target Games |
| Total Points Value: | 981 |
| Status | More to paint |
Units

| Unit | Cost |
| --- | --- |
| Warrior of the Golden Mask | 54 |
| Axemen: 8 axemen, leader, axemaster and standard bearer | 413 |
| Spearmen: 6 spearmen, leader and standard bearer | 247 |
| Keepers of the Flame: 4 keepers and leader | 267 |
| TOTAL COST | 981 |
Pictures
More pictures of these figures.
Notes
Again, I painted too many troops. I had to drop two spearmen off the list to squeeze it under 1,000 points. With the troops being so expensive, it's hard to get near an exact figure. Maybe I should paint some swordsmen or militia next.
I do own archer figures for the elves, but these blisters just happened to be opened so I started with them. Chronopia "armies" are really small in terms of figure counts. You barely get started and then you realize you can't fit anything more in the army. Which is also good, because the figures are not that fast to paint, lots of intricate details and stuff.
In terms of painting, these are among the first real units I've done in the Foundry/Dallimore 3-color style.
---

This work is licensed under a Creative Commons Attribution-NonCommercial-NoDerivs 2.5 License.
Copyright 2003-2021 Mikko Kurki-Suonio