Historical Figures Inventory

The historical figures inventory covers all pre-20th century figures. I know this cutoff is pretty arbitrary, but I had to make some choice.
Everything here is in 28mm unless otherwise specified.
Hoplite Greek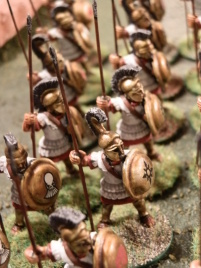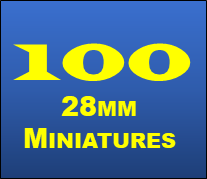 Painted

8 officers (can be used as hoplites)
6 musicians (pipe)
67 hoplites
19 spartan hoplites (lambda shields)
9 peltasts
11 archers
10 slingers
20 javelinmen
6 light cavalry
3 centaurs
Total: 150 infantry, 6 cavalry and 3 monsters

Unpainted

I broke down and ordered some reinforcements, maybe 50 on their way...
I included the centaurs simply because they happened to be in the same container with the rest of the troops. I do have a bunch of other monsters that would fit a greek theme if I were building a fantasy army.
Celts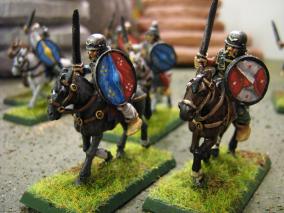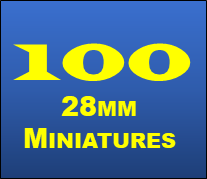 Painted

19 nobles (armored foot)
7 musicians
7 standard bearers
106 warriors
23 naked warriors
24 slingers
14 archers
2 druids
19 unarmored cavalry
11 armored cavalry
5 chariots
1 female warlord on foot
Total: 203 infantry, 30 cavalry and 5 chariots

Unpainted

Half a dozen civilians, slaves and captives somewhere
The chariots are based on 80mm squares for Fantasy Rules! which unfortunately makes them either unusable or unsurvivable in some other rules. But they are a pretty way to sink points...
Romans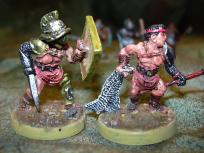 Painted

12 gladiators
Total: 12 infantry

Unpainted

I sold off all my Romans...
Not much of a Roman army, eh...
Dark Age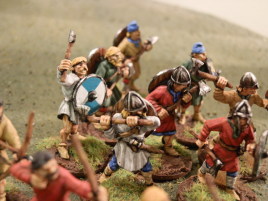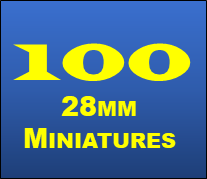 Painted

46 armored Saxon thanes
20 Saxon archers
70 unarmored Saxon warriors
Total: 136 infantry
Colonial Africa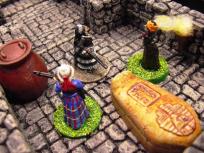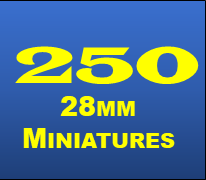 Painted

16 redcoats
11 sikhs
16 uniformed askari
12 bearers
parasol bearer, 2x standard bearer (Union Jack), musician, butler
37 explorers and personalities
36 tribal archers (mostly ancient nubians)
32 warriors (zulu dress)
68 warriors
14 masai warriors
31 tribal musketeers (zulu dress mostly)
26 female warriors
2 standard bearers (native and muslim)
29 askari
43 askari (arab dress)
7 witch doctors
1 prophet
1 sheikh + assistant
1 native princess
8 bobbies (ok, not very African but including inspector)
3 mounted bobbies
3 cyclists
Total: 397 infantry, 6 cavalry

Unpainted

There maybe one blister lurking somewhere...
72 redcoats
There may be some more painted figures misplaced somewhere...
Old West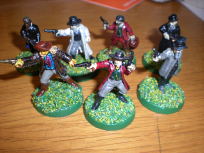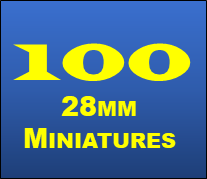 Painted

32 gunfighters
2 mounted gunfighters
33 townspeople
7 zombie gunfighters
9 mounted indians
36 apache warriors
36 Union troopers
16 mexicans
4 US cavalry
8 dismounted US cavalry
Total: 168 infantry and 15 cavalry

Unpainted

maybe 10 or so townspeople and gunmen
These are mostly Foundry with some Dixon minis.
Flintloque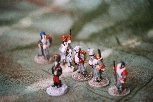 Painted

32 elf infantry
13 elf cavalry
18 undead infantry
14 undead cavalry
4 werewolves
8 todoroni
Total: 62 infantry, 27 cavalry

Unpainted

None! Ok, there might be a throne set somewhere...
These are the figures from the Deadloque and Lady Wintermore's Fangs sets mostly. I still have a pile of loose elves unpainted. I'm not a huge fan of painting napoleonic uniforms, even fantasy ones.
1/300 Napoleonic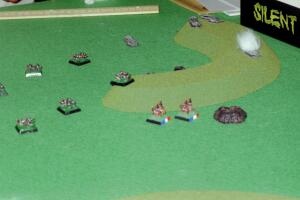 Painted

73 stands
Total: 73 stands

Unpainted
These are essentially full sets for Le Petit Empereur, French, German, Russian, Austrian and a British half-set (since in LPE, the brits must always ally with someone). One of the extremely few cases where I had the figures professionally painted though I did the basing myself. Needless to say, I've never actually played with them.
Napoleonic
Painted

25 portuguese cacadores
48 portuguese line infantry
Total: 73 infantry

Unpainted

A couple of cannons and some officers
The modest beginnings of my 28mm nappies I picked up from a Foundry overstock sale. I should get some officers and maybe artillery and cavalry as well.
Oriental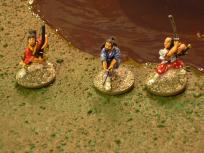 Painted

6 ninjas
8 armored samurai
2 mounted samurai
23 unarmored, including unarmed civilians
Total: 37 infantry, 2 cavalry

Unpainted

maybe 20-40 armored samurai types
Most of these are Dixon figures, except the unpainted ones that are Clan Wars figures. Despite being titled oriental, they are actually pretty much Japanese. The rest are logically in misc. fantasy section...
Early Renessaince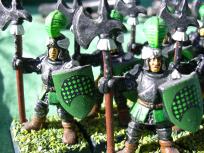 Painted

40 halberdiers
5 archers
5 crossbows
1 handgunner
4 cannons with 2 crew (2 cannons very ugly)
1 engineer
Total: 54 infantry, 4 artillery

Unpainted
These are mostly Citadel Empire figures from various ages, including the BattleMasters game. The two ugly cannons are scratch-built. I also have a bunch of knights listed under medieval. In a pinch, many of them could stand in for gendarmes.
Renessaince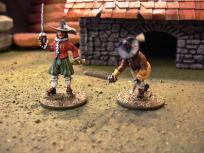 Painted

3 duelists
1 cossack on foot
Total: 4 infantry

Unpainted

A handful, maybe 20 figures
These all Redoubt Three Muskeeters miniatures, except the cossack who's Foundry.
Medieval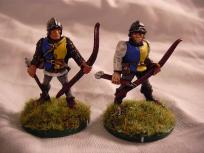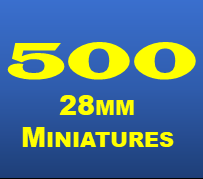 Painted

186 archers
20 peasants
41 spearmen
33 swordsmen
52 halberdiers
20 billmen
1 standard bearer
1 musician
30 crossbows
56 foot knights (inc. 6 standards)
25 pikemen
11 men-at-arms
8 mounted archers
1 mounted wizard (or court jester)
3 mounted knights in chainmail
46 mounted knights in plate armor
1 mounted sergeant
1 battering ram
2 wardogs and 1 handler
4 giant handguns with 2 crew each
1 catapult with 3 crew
Total: 478 infantry, 59 cavalry, 2 siege engines

Unpainted
These were originally mostly Citadel and Grenadier figures from various ages, but recently I've added quite a few of Black Tree's excellent Hundred Years War figures. The knights are included here even though rougly half of them are GW Empire figures and might be counted under early renessaince. Civilian types are listed under misc. fantasy.
Ancient Naval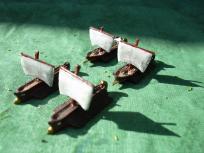 Painted

1 large galley
8 medium galleys
8 small galleys
Total: 17 ships

Unpainted
These are all 1/1200 scale and mostly NavWar. I painted a bunch of different ones as a test, so there's everything from ancient greek triremes to byzantine dromons.
ACW Naval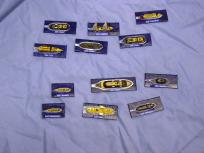 Painted

1 sailing ship
2 gunboats
6 ironclads
3 timberclads
Total: 12 ships

Unpainted
These are all 1/1200 scale NavWar.
---

This work is licensed under a Creative Commons Attribution-NonCommercial-NoDerivs 2.5 License.
Copyright 2003-2014 Mikko Kurki-Suonio