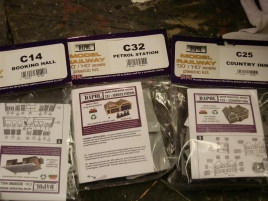 Normally model railroading is for people who think driving a 20 year old Porsche is too inexpensive a hobby. I know, I've tried it. The Porsche that is. There's a lot of useful stuff in the railroad kits, but for the most part the prices detach the fillings from your teeth. Imagine my astonishment, when I stumbled upon Dapol OO scale building kits. Make no mistake, Dapol sells a lot of stuff in the more usual railroad price bracket. But they also have some plastic injection kits in their acccessories section that are really inexpensive. I just had to order a few samples to see how they measure up.
First Impressions
These are real injection molded plastic kits, even though you can easily pay the same price for card models. As the accompanying literature tells you, they are old kits made with very old tooling. The parts are not neatly on sprues like a modern kit would be, but rather mostly loose in the bag or at most attached to a single bar of plastic. There is some breakage, some bent parts and some flash evident, but nothing an experienced modeller could not cope with. But they do come with pre-printed card signs and even clear plastic for the windows, which is a nice touch even though I didn't take it into use.
In Use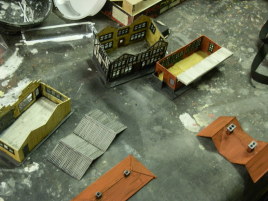 The first thing you notice is that the parts are pretty fragile. You're clearly meant to glue the roof on to solidify the building, which poses a problem in wargaming use. Luckily I had some plasticard handy, and made bases for the buildings from that instead. Another feature of not being intended to be viewed from the inside is not only that the interior lacks detail, but there are also considerable casting artefacts on the inside walls.
Oh, and the numbers on the parts don't match the current instruction sheets at all. Fortunately the kits aren't that complex and you can pretty easily figure it out. Just dry fit everything and don't mix parts from two kits. The kits take normal plastic glue well and are pretty easy to assemble. Once glued together and to the base, they are also relatively sturdy.
Painting is pretty easy too, especially if you are not an idiot like me and remember to paint the window frames separately before glueing them on. The detail on the plastic is not very deep, so try not to clog it with paint.
Verdict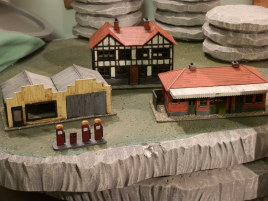 They are very much worth the price. However, with more money you can definitely get better kits. Dapol's range is reasonable, though a bit one-sided. But if you're set on recreating 1950's England, they're dead on.
I think I will be getting some more. For this price there just is no real alternative.
The scale is a bit on the small side. If all your buildings are in this scale, they are quite usable but next to larger buildings they might look a bit silly. I will address the scale issue in more detail later.

Dapol Kits
Robin (guest)
Dec 12, 2014 18:36

Hi - am enjoying browsing through the website - just a historical note on the Dapol buildings kits - they are originally Airfix moulds that were created in the 1960s for what was then described as HO/OO scale - I guess that's effectively 1/76 for figures that we would now call 20mm. At the time Airfix was 'flirting' with moving into model railroad territory itself to compete with the likes of Hornby but nothing really came of that. When Airfix initially went bust before the first take over, Dapol picked up the moulds for all the firm's model railway related kits.

That's interesting to know
maxxon
Dec 12, 2014 23:19

Thanks for the info Robin. That's a bit of modelling history slightly before my time (and I've never been into railroad stuff), but very interesting to know where these are coming from.

Knowing that it now makes sense why they haven't retooled the items.

Yes, they are 20mm scale, but I find that terrain items don't always have to match figures exactly. More about it in this article I wrote a while back.