SciFi Figures Inventory

This section of figures inventory covers all sorts of science fiction miniatures. Ultramoderns are included in modern section.
Everything here is in 28mm unless otherwise specified.
Eldar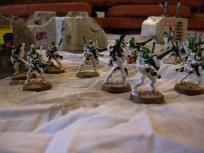 Painted

39 infantry
3 big guys
Total: 39 infantry and 3 big guys

Unpainted

I think I have a Falcon somewhere, plus piles of support weapons and walkers and bikes. A few infantry as well. Harlequins maybe?
In addition, I have a few very old school painted Eldar (think Rogue Trader era) that don't really fit this army anymore.
Purple Hearts Marines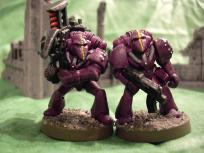 Painted

39 marines (including std. bearer)
10 terminators
1 dreadnought
2 tanks
3 Rhinos
Total: 49 infantry, 1 dreadnought and 5 AFVs

Unpainted

Piles of infantry including a few terminators, one Rhino, one Predator (or was it two?) and two land speeders.
These are regular WH40K figures. I have loads of epic scale marines also...
Space Comrades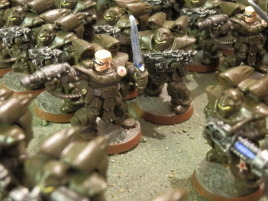 Painted

1 First Comrade
45 comrades
40 komsomol
3 walkers
1 drop pod
Total: 86 infantry, 3 walkers, 1 vehicle

Unpainted

4 comrades and 16 komsomol
These are some very old cheap figures I bought way back then.
Baughast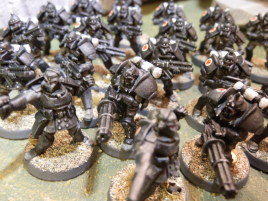 Painted

40 troopers
Total: 40 infantry

Unpainted

Maybe 20-30 elite troopers
These are actually my old Warzone Bauhaus figures I repurposed.
Tyranids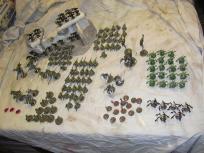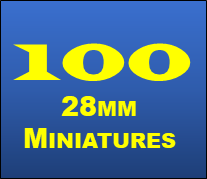 Painted

49 genestealers
53 gaunts
15 hormagaunts
14 spore mines
11 ripper bases
8 warriors
1 carnifex
2 hive tyrants
2 zoanthropes
3 raveners
13 snow commando brood
Total: 11 swarm bases, 14 mines, 128 infantry, 15 medium monsters, 3 large monsters

Unpainted

My color test gaunts are included in odds and ends... and a have a pile of random parts but no real figures as far as I know.
These are regular WH40K figures. The genestealers don't match the color scheme of the rest of the army for two reasons. The first batch I did long before any tyranids really existed and when I did the second one, the stealer model just doesn't take this paint scheme well because it lacks the carapace plates.
Bugs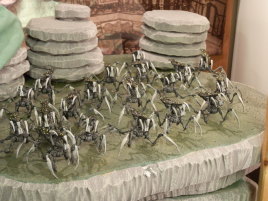 Painted

60 warrior bugs
6 blaster bugs
9 hopper bugs
Total: 75 bugs

Unpainted
These are all Starship Troopers figures. I dug them from my archives and started painting them just for kicks.
Robots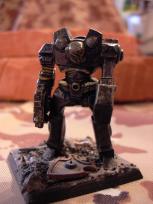 Painted

1 big robot
1 medium robot
71 man-sized robots
Total: 1 big robot, 1 medium robot, 71 infantry

Unpainted

A few bigger robots probably
Most of these are Warzone figures I bought for cheap. We did a big game with these and then they were mothballed.
Necrons
Painted

6 scarab bases
20 necron warrior
3 necron helpers
Total: 23 infantry, 6 swarm bases

Unpainted

A few bigger robots probably
The initial batch is from the Indomitus box set, but I'll probably get some more later.
Doctor Who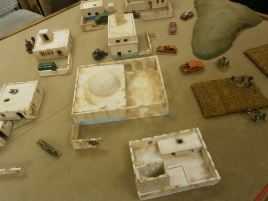 Painted

19 Cybermen
15 Daleks
6 Sontarans
1 Doctor
1 companion
1 TARDIS
Total: 42 infantry, 1 vehicle

Unpainted

A bunch of UNIT stand-ins
Most of these are the official Black Tree figures, though there are some cheap plastic toys mixed in I bought to see if they could be used. I'll gladly pay a little extra for proper figures...
Cobalt Mercenaries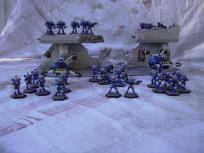 Painted

15 troopers
6 heavy troopers
2 officers
7 heavy weapons
2 small flyers
Total: 30 infantry, 2 vehicles

Unpainted

None. These figures are all out of production. I do have a bunch of Ygrainne though.
These are from Westwind's Cobalt-1 game, except the vehicles which are old Grenadier Future Wars.
Palansi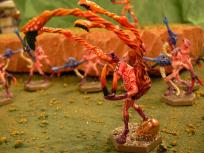 Painted

15 troopers
3 officers
6 heavy weapons (including 2 tentacle dudes)
Total: 30 infantry

Unpainted
These are from Westwind's Cobalt-1 game. I'd really like to get some Aruk to go with these, fortunately I found a new supplier for these!
Plague
Painted

4 big mutants
4 medium mutants
22 plague mutants
Total: 30 infantry

Unpainted
Death Guard
Painted

26 poxwalkers
3 plague heroes
2 daemon engines
1 daemon prince
10 plague marines
Total: 39 infantry, 2 vehicles, 1 large monster

Unpainted
These are official GW models. Other suitable models can be found on other listings, mostly plague zombie thingies.
Asterian
Painted

20 Marionettes
11 drones
Total: 20 infantry, 11 support

Unpainted
15mm Hammer's Slammers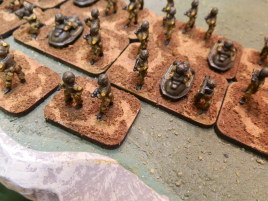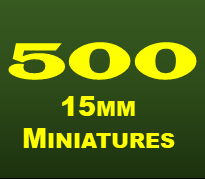 Painted

44 Slammers troopers
10 Slammers hoverjeeps
9 Slammers blower tanks
14 Slammers combat cars (inc. 3 command cars)
3 Slammers hogs
4 heavy tracked tanks
17 medium tracked tanks
4 medium tracked tank destroyers
5 APCs
19 guntrucks
2 missile cars
6 blower tank destroyers
3 medium blower tank destroyers
3 blower support vehicles
3 blower APCs
1 blower command truck
4 light blower scout cars
5 medium blower tanks
2 Calliopes
9 hovertrucks
3 wheeled trucks
3 turret bases w/radar dish
4 turret bases w/AA
48 terminator robots
88 troopers (light brown)
40 power armor troopers (light brown)
187 troopers (green)
39 brutish aliens
32 bug aliens
31 snout aliens
24 security troopers
33 helmet aliens
Total: 526 infantry, 85 AFVs, 19 technicals, 22 softskin vehicles, 7 installations

Unpainted

About 70 vehicles and 100 infantry... sigh...
I'm putting all my 15mm Sci-Fi stuff here, even though some of them (especially the aliens) don't really fit in the Slammers universe. The vehicles are from Old Crow while the infantry is mostly GZG with some Rafm, Eureka and others mixed in.
Epic scale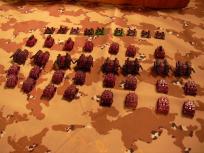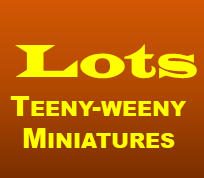 Painted

3 ogres (the tanks)
2 small mechs (BattleTech)
3 medium mecha (Macross)
9 titans
2 supertanks
21 bases of robots
2 laser towers
7 rhino variants (blue)
3 land raider variants (red)
2 rhino variants (red)
24 bases space marines (black)
8 land raiders (black)
16 rhinos (black)
1 rhino variant (black)
10 bases space marines (purple)
8 land raiders (purple)
16 rhinos (purple)
7 rhino variants (purple)
12 bases eldar infantry
12 falcon tanks (old style)
1 grav tank (Renegade Legion)
Total: 15 giant vehicles, 4 very large vehicles, 2 gun towers, 79 AFVs, 67 bases of infantry

Unpainted

Lots, including a big set of Ogre stuff.
These are mostly old GW Epic figures, but I also included other items in similar scale. Most of this stuff came from the original Space Marine game boxes, that's why the unit mix has so little variaty. Back then you were supposed to identify infantry types by base color...
I should have half a dozen ork battlewagons somewhere, but I can't find them... I also have a bunch of larger mecha models (plus tanks and planes) I used to play Mecha! with, but they are so far not included.
Space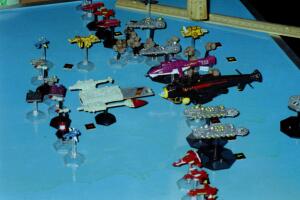 Painted

13 red fighters
7 tiger striped fighters
6 black fighters
4 white tiger striped fighters
6 green fighters
10 various fighters
5 very large ships
6 large ships
18 medium ships
6 small ships
22 asteroids
1 beacon
Total: 46 fighters, 11 capital ships, 24 cruisers and escorts, 22 asteroids and 1 beacon

Unpainted
The fighters are mostly from Silent Death while the ships are a a more varied lot though they were used to play Full Thrust. Ironically, I don't have any "fleet scale" fighters, we used to to use Space Marine infantry bases for those. Some fighters are usable (and have been used) as smaller ships. Mostly the ones that don't have huge obvious canopies.
Odds and ends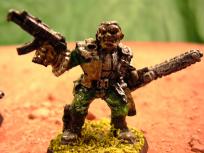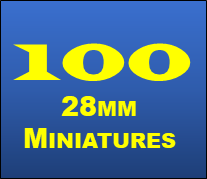 Humans

Painted

62 Dreadballers (incl. refs, coaches etc.)
10 Pumpkin Lords
10 terminators
14 space marines
69 soldiers
8 flight crew
1 jetbike
4 tanks
1 robot tank
4 landing pods
1 flying drone
5 FWC enforcers
9 Strontium Dogs
Total: 187 infantry, 11 vehicles

Unpainted

Aliens

Painted

10 space rats
1 armored dog
1 eldar
3 squats
10 orks
1 ork trike
1 dwarf cannon
1 small ork walker
1 toxic spirit
2 small aliens (with guns)
2 large aliens (with large guns)
1 BloodBowl player (elf)
14 small monsters
14 brains
1 alien tank
1 dropship
Total: 30 infantry, 5 vehicles and 29 monsters

Unpainted
These are the odd ones that aren't part of a larger force for some reason. Maybe I just have too few of them or they have a paint scheme that differs a lot from others of their ilk. Quite a few of these are very old Citadel figures, including some pre-40k space marines (they were originally sold as Traveller minis). These also include my Warzone Imperials, at least until I organize them better.
Having these odds and ends is partly due to trying out new ranges and games and partly due to my RPG heritage where you tend to need lots of diverse figures but no large units.
---

This work is licensed under a Creative Commons Attribution-NonCommercial-NoDerivs 2.5 License.
Copyright 2003-2021 Mikko Kurki-Suonio