Painting Diary
2003
January
February
March
April
May
June
July
August
September
October
November
December
---

I started keeping a diary of all my painting work in late 2003, largely because I had no good idea how much work I was actually getting done - you see, most of my finished models simply sit in egg cartons trying not to collect too much dust after their initial photo session.
I didn't really have a plan when I started. Then again, had I stopped for planning, I might not have done this at all. Therefore the classification of work stages is somewhat fuzzy.
The diary entries contain the figures I've worked on during that day and the last work stage I've reached with them. Thus it might appear that some stages are missing - they're not, I just finished more than one stage at a go.
The work stages go roughly like this:
cleaning (including attaching a base)
priming
base colors
wash and drybrush
detail work
varnishing
FINISHED (flocking the base)
Sometimes there's so much assembly work that it gets a separate mention, sometimes flesh tones get a separate mention... but basically that's the process.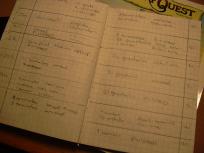 Initially there was no plan to put this on a computer, but that plan soon emerged. I was already photographing all my finished models and putting them up on Small Cuts. It was relatively simple to adapt the comment software to take the diary entries (hardly an ideal solution from IT perspective, but it works). The beef with the computerized diary is that the entries are linked to the photo archive. Now I can see which models exactly did I finish on that rainy November night...
One final caveat: I am only human. Sometimes I forget to make diary entries. Sometimes they are more detailed, sometimes less. Take it as it is, and hopefully enjoy.
Output
Here's the running total of the output by year:
| | 2004 | 2005 | 2006 | 2007 | 2008 | 2009 | 2010 | 2011 | 2012 | 2013 | 2014 | 2015 | 2016 | 2017 | 2018 | 2019 | 2020 | 2021 | TOTAL |
| --- | --- | --- | --- | --- | --- | --- | --- | --- | --- | --- | --- | --- | --- | --- | --- | --- | --- | --- | --- |
| Infantry | 354 | 155 | 198 | 75 | 55 | 30 | 130 | 7 | 873 | 582 | 1098 | 407 | 145 | 350 | 304 | 522 | 499 | 195 | 5984 |
| Cavalry | 0 | 0 | 20 | 10 | 0 | 0 | 0 | 0 | 9 | 0 | 27 | 0 | 0 | 21 | 35 | 5 | 9 | 0 | 136 |
| Monsters | 4 | 9 | 0 | 0 | 0 | 0 | 4 | 0 | 2 | 91 | 0 | 1 | 1 | 12 | 5 | 32 | 14 | 49 | 224 |
| Vehicles | 15 | 6 | 128 | 0 | 0 | 0 | 0 | 5 | 38 | 29 | 205 | 0 | 0 | 5 | 55 | 74 | 14 | 0 | 574 |
| Terrain Items | 101 | 164 | 386 | 34 | 0 | 22 | 0 | 0 | 189 | 306 | 280 | 16 | 3 | 27 | 239 | 106 | 33 | 271 | 2177 |
| TOTAL | 474 | 334 | 732 | 119 | 55 | 52 | 134 | 12 | 1111 | 1008 | 1610 | 424 | 145 | 415 | 638 | 739 | 569 | 515 | 9086 |
---
---
Comments
Answer to "How many Minis did I paint"
guest
Jan 09, 2005 21:30

I think you have painted more than your fair share, and that would be 2049.

Oggie

This work is licensed under a Creative Commons Attribution-NonCommercial-NoDerivs 2.5 License.
Copyright 2003-2021 Mikko Kurki-Suonio